the apple of our eye...
from the GFWC-NC ClubWoman magazine, Winter 2012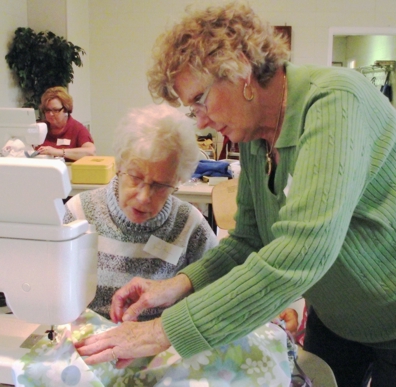 The best of all worlds is doing something you love while helping others.
Members of the Burlington (NC) Woman's Club have found this to be true over the last year with 3 wonderful days of "Sew Fest", transforming pillowcases into "Little Dresses for Africa".
These dresses for orphans in underdeveloped nations world wide, the brainstorm of Rachel O'Neil in Brownston, MI (littledressesforafrica.org), resonated in the hearts of club members. Sewers and non-sewers alike gathered at a local church in March, July and November and let their creativity flow! New and gently used pillowcases under the loving hands of fashionista cutters, sewers and ironers were transformed with lace, trim, buttons, bows, pockets and plackets into cute-as-can-be dresses for little girls.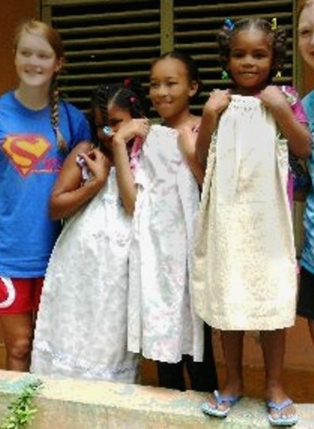 These girls will know that a woman, somewhere, made something lovely just for them, many for the first time in their lives.
The great tradition of sewing bees includes fun, fellowship and food and these were no exception! The scissors and machines were allowed to rest while participants wowed each other with their culinary skills at potluck lunches and the result was 5 star cuisine! Renewed by chocolate and casseroles, sewers resumed their stitching and modeled them to admiring co-workers after the last details were finished!
With the blessings of Little Dresses for Africa, the Burlington Club was fortunate to send their beautiful clothes with local missionaries to Kenya, Guatemala, Dominican Republic and Haiti. It was so rewarding to know that drugs and supplies were cushioned in transit with these "little dresses" and then unpacked and given to women and children living on the streets of Nairobi.
The Guatemala mission focused on sports for young boys and local girls were remembered by their visitors with new dresses. Dominican Republic girls, presented dresses by Burlington area high school students, were so thrilled with their dresses that they posed for photographs!
A firm believer in the young men of these countries, the club now has a "new line" of Little Britches for boys! Made out of denim, they are ready for the rough and tumble lifestyle of little boys around the world!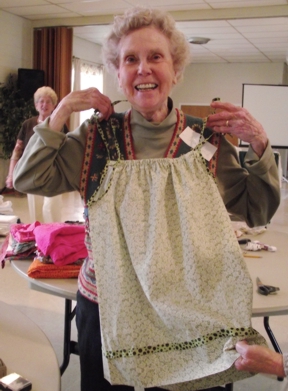 Making the dresses is so simple and rewarding that many club members make them at home and bring them to Sew Fest where they sew even more! Non sewers have remained steadfast in the contributions of supplies and enthusiasm!
It really is a guess to know who gets more enjoyment out of these little dresses-the club or the recipients. Through the nationwide effort, these little threads of love, have already made their way to over 31 countries worldwide.
To date the Burlington Woman's Club has made 100 dresses and 48 sets of britches. The next Sew Fest is already on the calendar for January 2012!
With each stitch in every garment, we hope to honor the little girl or boy who will wear it. We hope they feel a hug from a far away stranger and know that, whatever is happening in their lives where they are, they are loved and wished a healthy and happy future. As Rachel O'Neil so beautifully phrased it, we're not just sending dresses and britches, we're sending hope.
And it just doesn't get any better than that!